In this first part I am going to describe the frame in which you will be able to see this test. Because I am just not a journalist and not educated for it. I am somebody who liked to be on the road with the motorbike and so the GPS is more of a tool than a necessity. Like most bikers, I start by buying a navigation system, starting to ride and then only consulting the instruction manuals once I run into a problem, not very practical, but that's how it is most of the time. The only difference is that my motorbike is now equipped with three navigation systems instead of one. The picture next to it already led to some funny reactions on Facebook, but a lot of people are also curious what the outcome of the test will be, and honestly, so am I…
Objectivity
A journalist is supposed to be objective, but being objective is not so easy, because subconsciously, the mood of the day, the context in which a test is happening, experiences from the past but also the financial aspect play a big role that is not to be underestimated for the final evaluation of a product. Nobody is 100% objective, and neither am I. Let's be honest, I am already using TomTom on my motorbike since 2006, TomTom is one of our good clients and we collaborate with them also for TyreToTravel, so of course I am biased, and not just a bit. But in any case I will try to be as objective as possible, share my experiences with the navigation systems in this long-term test, and experiences are always coloured by definition, and compare the navigation systems based on a number of criteria.
Comparative criteria  
I would like to put together these criteria with you as reader and fan of bike tours. Whether you would like to join the discussion, whether you have good ideas towards these comparative criteria, or whether you would just like to share your experience, click on the button 'sign up' underneath this blog, you will then automatically receive a mail when a new blog item is posted. I will reserve the right to accept or refuse messages, because sometimes things can heat up and I would like to keep it comfortable here. At this moment, and this can still change with time, I am thinking of the following criteria:
Content of the box;
Functions;
Specifications;
The route software;
Navigating from A to B;
Navigating through an imported route;
Ease of use.
At the end of the ride, I think around October 2014, I will give grades to these criteria and give a final opinion.
Experiences from the past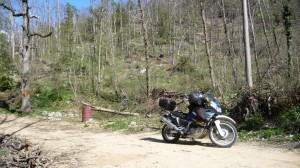 Experience from the past influence your view on the here and now, so I would like to share my experience directly here. In 2006 I bought my first navigation system, I had never heard of Garmin and was a GPS-virgin, so I decided to get a TomTom. Personally, I have had good experiences with TomTom, first with the TomTom Rider II, then the TomTom Urban Rider Pro, and now the TomTom Rider 5. Often heard complaints include that the old TomTom Rider could only handle 48 route points, and that there is no route software in the box. For myself, I have never experienced this as a problem, because I already used Tyre for route creation back then, and 48 route points for a ride were fine for me. I did however have a problem with the power supply, and with that I mean the power supply of the Rider II. I had to replace the motordock three times because my TomTom was not being charged anymore. Probably that had to do with me regularly using my Africa Twin on dirt roads, which is less of a place to be for the TomTom.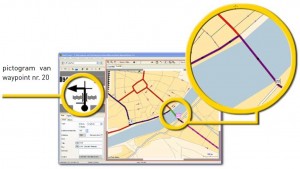 That's why a few years later I decided to additionally buy a Tripy II GPS, as a back-up for my TomTom, but also for the off-road rides. A nice, rock-solid device. The Belgian Tripy was responsible for the roadbooks in Dakar and more than 350 Tripy devices were used. With the longevity, visibility of the screen and the quality of the GPS-reach things were okay. I wasn't particularly fond of the included route software (Roadtracer Pro), mostly because after planning a route you still needed to edit the waypoint pictograms. Other than that, I don't find it suiting for the 21st century that it's not possible to navigate to a house number, the streets are displayed, but not the house numbers. So it's not recommendable for navigation from A to B, which almost forces you to get another navigation system next to the Tripy, or you use the Tripy only for tours, and then it's a very good alternative that we'll talk more about!
First impression Garmin Zumo 590LM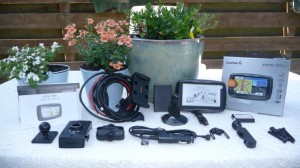 And now I am the proud owner of a Garmin Zumo 590LM, and that as a TomTom-fan! And I have to say, my first impression is positive. It's a nicely shaped device with a nice screen. When you open the box, you immediately see that it's a quality product, with good cables for power supply, everything nicely wrapped, the way it should be for a high-end device. Assembling it is a piece of cake, and the manual is understandable for everybody. And now my first ride with three GPS on my steering wheel! From Nootdorp to Diemen, on the way to an appointment, just navigation using 'fastest route'. So the Tripy is immediately out, since I can't navigate to a house number. TomTom and Garmin calculate the exact same route. Twice I left the suggested route on purpose, and here it shows that Garmin is faster in built-up areas, while TomTom was faster with re-calculating the route when I took a wrong exit on the highway on purpose.
I also paid attention to the visibility of the screen, and there can be no discussion, the Tripy II GPS is the most readable under all circumstances. The TomTom and the Garmin are very close to each other, sometimes, when the sun shines directly on the screen from the back, the visibility of the Garmin is just a bit better, but it doesn't really make a difference. I prefer the standard blue route line of the TomTom for its visibility over the pink route line of the Garmin, but I am sure this can be changed in the settings. And see, here's a first reason to consult the instruction manual or watch MrGPS's videos. But that'll be for next time, as I will be leaving to the Harz for a nice weekend of steering and testing, what a shit life I have ….