As you can see on the picture, I am missing a navigation system in the middle, and thus we have the first problem. In this third part of the long-term GPS test I will tell about my experience with the TomTom Rider 5, Garmin 590LM and Tripy II GPS during a lovely weekend of riding in the French Ardennes and the Eifel. I will not (yet) make a judgment, but try to present the facts, that are of course influenced by my experiences from the past, but also my experience of this moment. We start by creating the routes, copying them to the GPS and then we will just ride and see what happens, have fun!
Importing routes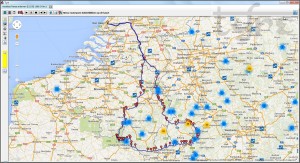 We used the basic version of the program Tyre to create the routes. I say 'we', but actually all these routes were made by my biker buddy Roland, I only changed some route points and copied them to the navigation systems. Tyre is easier and quicker than Basecamp in this case, because you can copy the route without additional converting tool to your Tripy, Garmin and TomTom. Anyways I don't have a lot of experience with Basecamp, something I will want to change in the upcoming weeks, but everything has its time. In Tyre you can place route points by double clicking on the map or entering an address into the yellow search field. What's very nice is that the program automatically detects if you have connected a Garmin or TomTom to your PC. You click on 'copy' and Tyre automatically copies the right file format onto the connected GPS (TomTom, Garmin and Interphone).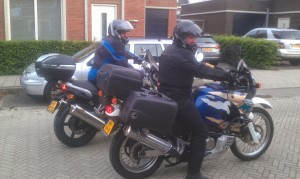 With Tripy, you need to save the route as gpx file, then you start Roadtracer Pro, connect Tripy to your PC and copy the file. If you create routes with Tyre, you need to watch a few things; Tyre only copies the route points, then the GPS calculates the route in between these points, so it's vital to place a sufficient amount of route points on strategic positions. Also, Tyre uses Google Maps, which is a different map than  Garmin, TomTom and Tripy, so it can happen that the route is a little bit different, but in practice this is really not a problem.  Google Maps/Tyre does not recognize unsurfaced roads, so if you place a route point on a small way, it can happen that the route point ends up on an unsurfaced road. You can see that on your Garmin or TomTom, but I usually choose to skip a route point in case that happens. You can find an extensive manual for Tyre here and download Tyre here for free.
And now for the ride…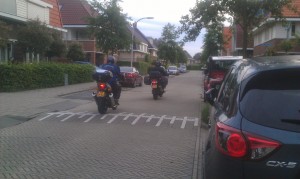 The route with approximately 1.100 km has been created, the routes are loaded, the suitcases are packed, wife and kid get a last hug and we're ready to start the party! We'll drive early to avoid the rush hour, at 06.15 we're ready to leave. Through the travel planners, I open the routes for the first day, and immediately there's a difference, Garmin says we'll arrive at 11.31 and TomTom is in a hurry and says that we'll arrive at our destination at 11.13. Tripy does not say anything, because on the one hand Tripy does not use spoken instructions, but also because I don't activate the route- watching 2 navigation systems while riding is enough for this trip. At the end of the street, Garmin and TomTom get into a fight, Garmin says to take a left turn, TomTom indicates that we should drive to the right. So what now? I choose the easier way, like most people would, so I follow the TomTom, not because the route is better, but because I have been using the TomTom for many years, so I think that it'll be easier…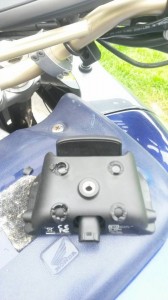 The reason for this difference is quite easy to explain. The first route point is after Eindhoven at the Valkenswaardse weg, from there we want to go to the French Ardennes. Garmin says that it's best to use the A 13 through Rotterdam > Breda > Tilburg > Eindhoven, and TomTom prefers the option A 12 through Utrecht > 's-Hertogenbosch > Eindhoven. It doesn't really matter, since both options arrive at the first route points, if you're riding with a group it's best to place some additional route points on the highway. I say both options arrive at the first route points, but that's not the entire truth,  since the TomTom wants to turn itself off after Utrecht, oh my… I notice that the battery does not load properly, only when I hold the cable the 'lightning' appears at the battery symbol. That's not the idea, watching three navigation systems, anticipating the traffic, riding, holding a cable-  I also want to enjoy this ride! So at the first stop, I change the setting that the TomTom turns itself off automatically when it's not loading. Still, it remains a problem, the TomTom can go about 6 hours without power, but it was not completely loaded to start with, so there's a chance of getting a black screen on the TomTom. A bit before Eindhoven, I stop again to check, probably it's a cable break close to the connector, I try to fix it with duct tape, and all of a sudden I am holding the TomTom with motordock in my hands! Was it not properly fixed? It seems, like you can see on the picture, that the screws that you're supposed to fix to the motordock just broke. How can that happen? I have been using a Touratech carrier for 5 years, so maybe the screws didn't fit very well, or it's because I often go off-road and there were too many shocks, who knows?
Fact is, the Touratech carrier and the motordock get thrown into the trash along the highway, and the TomTom goes back into the suitcase. I'm curious if others had similar problems of cable break or a broken motordock, since I didn't hear or read a lot about it, so I'll call TomTom to ask, to be continued…
And now continuing with the Garmin
Every disadvantage has its advantage, as Johan Cruyff would say, so now I have to get to know the Garmin quite well. And like every meeting, it starts with the first impression, and that one is very positive, just like the second and third impression, it's a very nice piece of equipment to look at. But, as my mother would say, the content is more important than the looks, so I'll just go and sit in front of it. We still have to get used to each other, because sometimes I miss an exit, it's mostly because of my clumsiness, but also because the sound, even at the highest level, is a lot less loud than with the TomTom. I have a Cardo Scala Rider that's 6 years old, so it might also have something to do with that. Also, I prefer the instructions from the TomTom, especially if several exits are one after the other. TomTom then gives instructions like; "after 100 meters, take the first exit on the right, and then after 15 meters another exit to the left".
With Garmin, you only get to hear the first instruction and then the second sometimes comes a bit late. Also on the screen, I find it easier to follow the route on the TomTom than on the Garmin, but that probably has to do with being more used to it. After a few hours of riding, it already went a lot better. And what if something goes wrong, like when there are construction works happening on the road? With TomTom, you can choose 'avoid obstruction' or if a route point is placed exactly in these construction works, you can choose 'go to next route point', which works very well. Garmin has something like that, too, it's called 'circumnavigate' or 'skip next route point'. You click on the three bars at the right bottom corner of the screen, then you click 'change route' and this offers you quite some possibilities to change the existing route. I only used 'circumnagivate' a few times, once it worked out really well and once it didn't, Garmin kept sending me back, probably I should not have chosen 'circumnavigate', but 'skip next route point'. What's important is that you should point your front wheel towards the construction works before changing the route, so that Garmin will re-calculate, which makes sense. We just need to get to know each other a bit better.
After our first chance to get to know each other, I have to state that Garmin is a very nice piece of equipment, with a complex content that I still need to get used to. Whether this young relationship will continue still has to show, and we will need to go on more interesting dates. Secretly I am also seeing my TomTom again, ordered a new motordock and power cable, and also the original anti-theft solution from TomTom. On the other hand, Garmin seduced me to buy the following toys:
3D Live Traffic (Europe and South Africa) (Garmin Smartphone Link app): € 19,99
Advanced Weather (Europe) (Garmin Smartphone Link app): € 5,49
2 x tyre pressure sensors for € 49,-: € 98,-
Carrying bag: € 27,-
Touratech lockable carrier: € 119,-
Sena SMH10R headset: € 219,95
For the following part I will need to to some office research and compare the specifications, we'll also look into the standard content of the box, which is a bit boring but also important. We'll obviously re-attach the TomTom Rider to the motorbike, install and try out the toys I bought, create and try out more routes (also using Basecamp). In a nutshell, there will be enough to write about and to discuss, so see you next time!
Official reaction TomTom:
"Michel van Hagen is participating in the TomTom Beta test team and therefore rides with first samples of new devices and accessories. All TomTom accessories are extensively tested by our Beta test team before they are released to customers. The holder in question was a first sample, and these can sometimes still have defects, as Michel van Hagen has sadly experienced. At the same time, TomTom advises to always use original screws for attaching the active dock to the holder. If a screw is longer, this can mean that the entire holder will break because of the rotation. With the original screws and under normal usage, this is not possible".
PS: soon I will also post a travel report with video impression, it will be available here.